Vines Grille & Wine Bar is a local fine dining restaurant known for its decadent steak and seafood dishes, eclectic interior, and award-winning wine bar.
Services
Website Branding & Guidelines
Product & Service Messaging
UX Design & Wireframing
UI Design & Theming
Website Development
Animations & Interactivity
Easy Content Management Systems
Local Search Engine Optimization
Marketing & CRM Integrations
The Challenge
Vines Grille combines the finest ingredients, superior flavor combinations, and an electrifying atmosphere to create the ultimate dining experience. They hired Brandcoders to create a fresh website with a custom events system to showcase upcoming performers, highlights, and specials. They also wanted to upgrade their existing menu system and streamline the online reservations process.
The Vines team needed to partner with the right Orlando web design agency to position them as a local hotspot known for exceptional cuisine, cocktails, and vibes. The objective was to highlight every aspect of the Vines experience through striking food imagery, elegant branding, and captivating content. We also built out location-focused landing pages to attract users looking for nearby restaurants.
Graphic & Print Design
Our designers continue to work with Vines post website launch to create custom graphics and print materials that are informative, eye-catching, and reflective of the desired brand identity. These projects have included new or limited-time menus, promotional flyers, and e-mail blasts.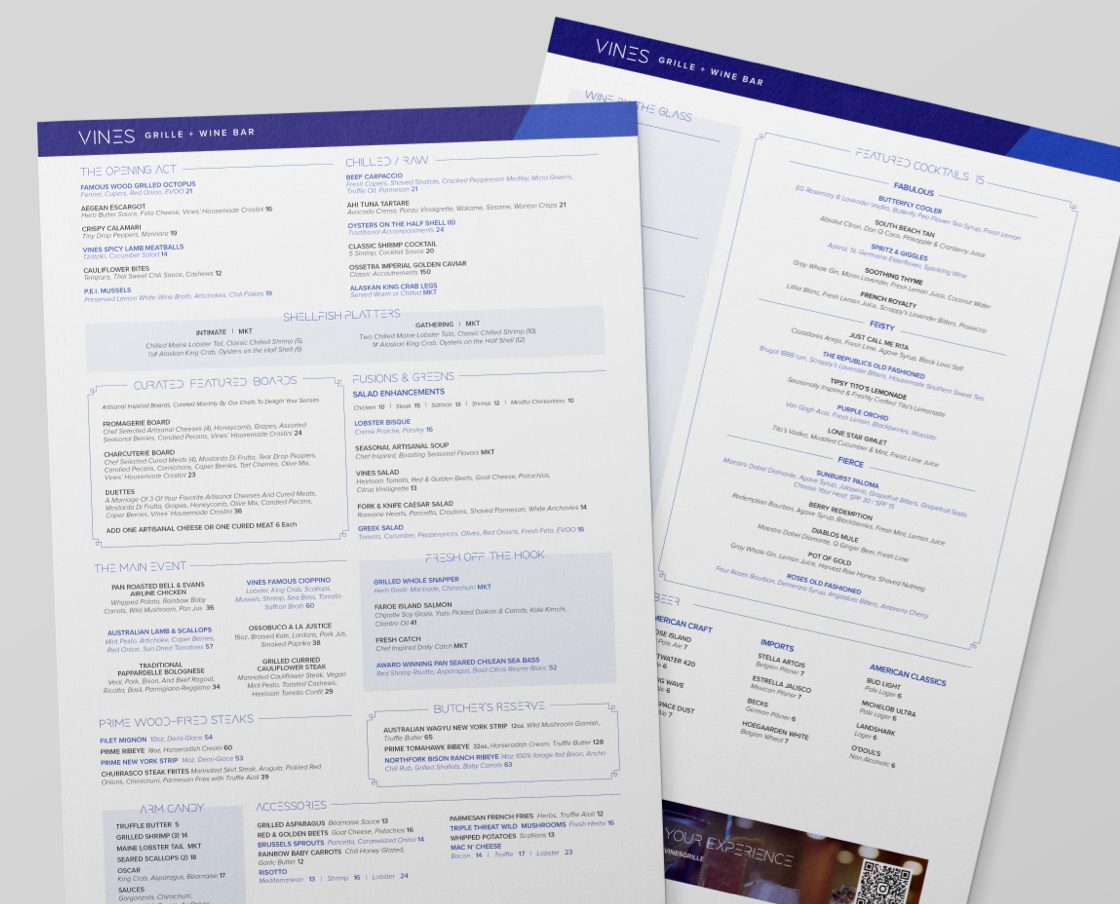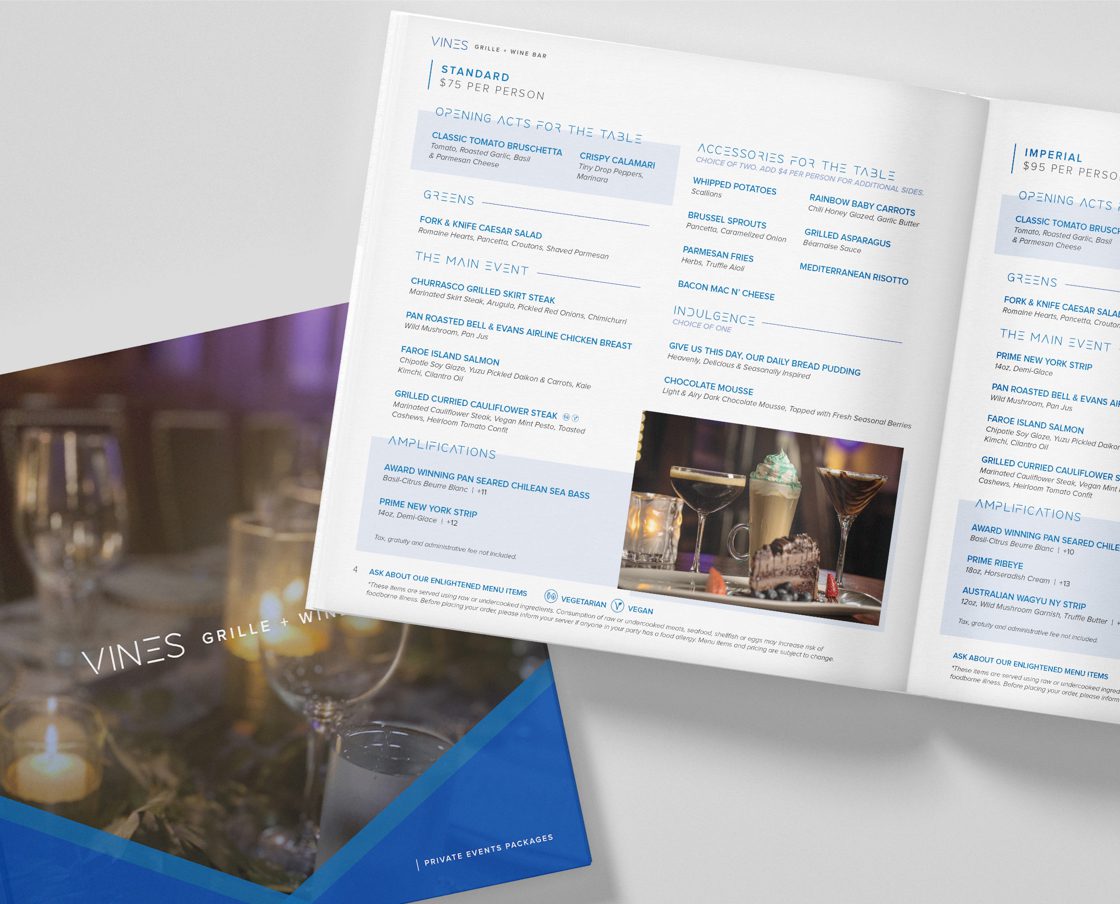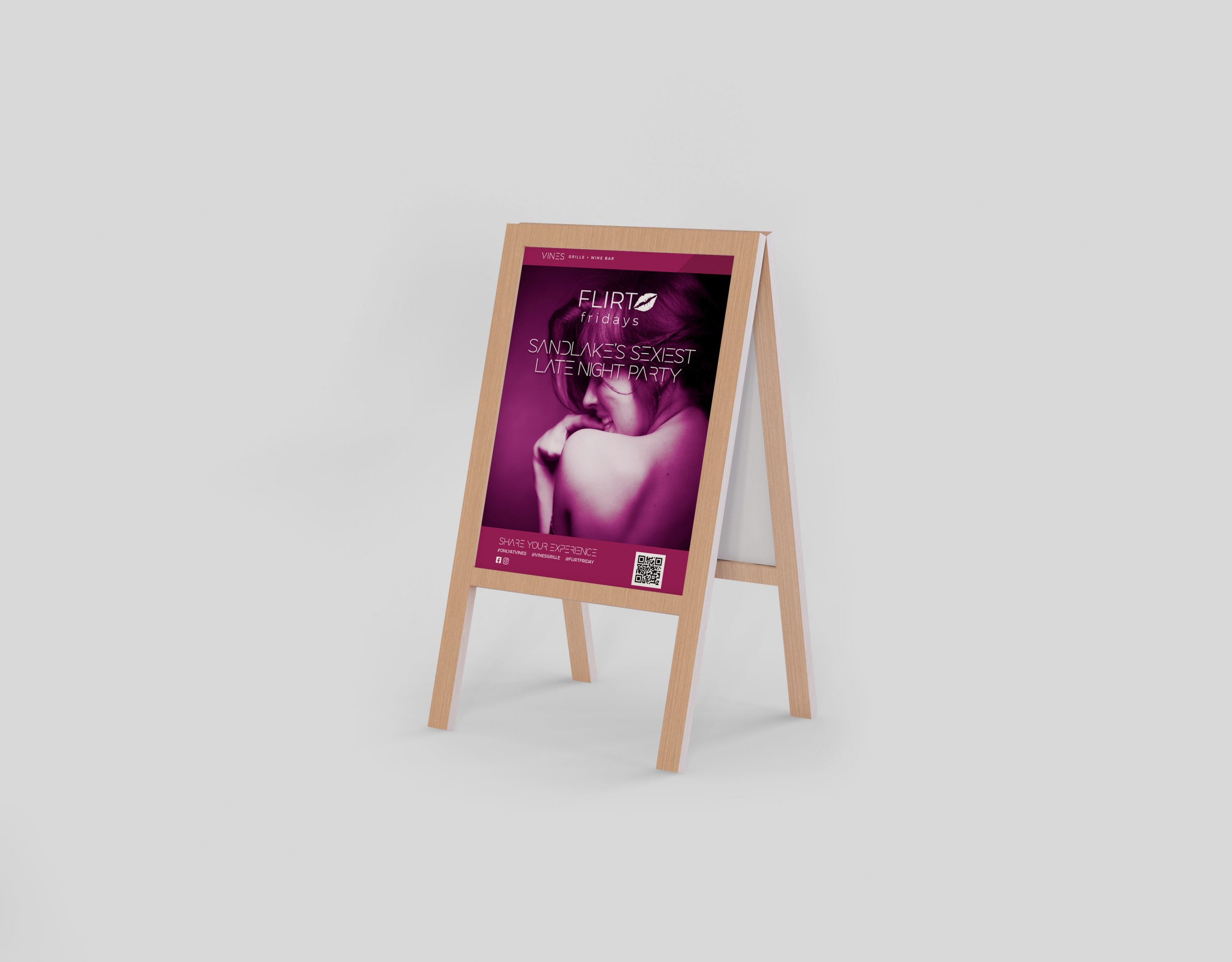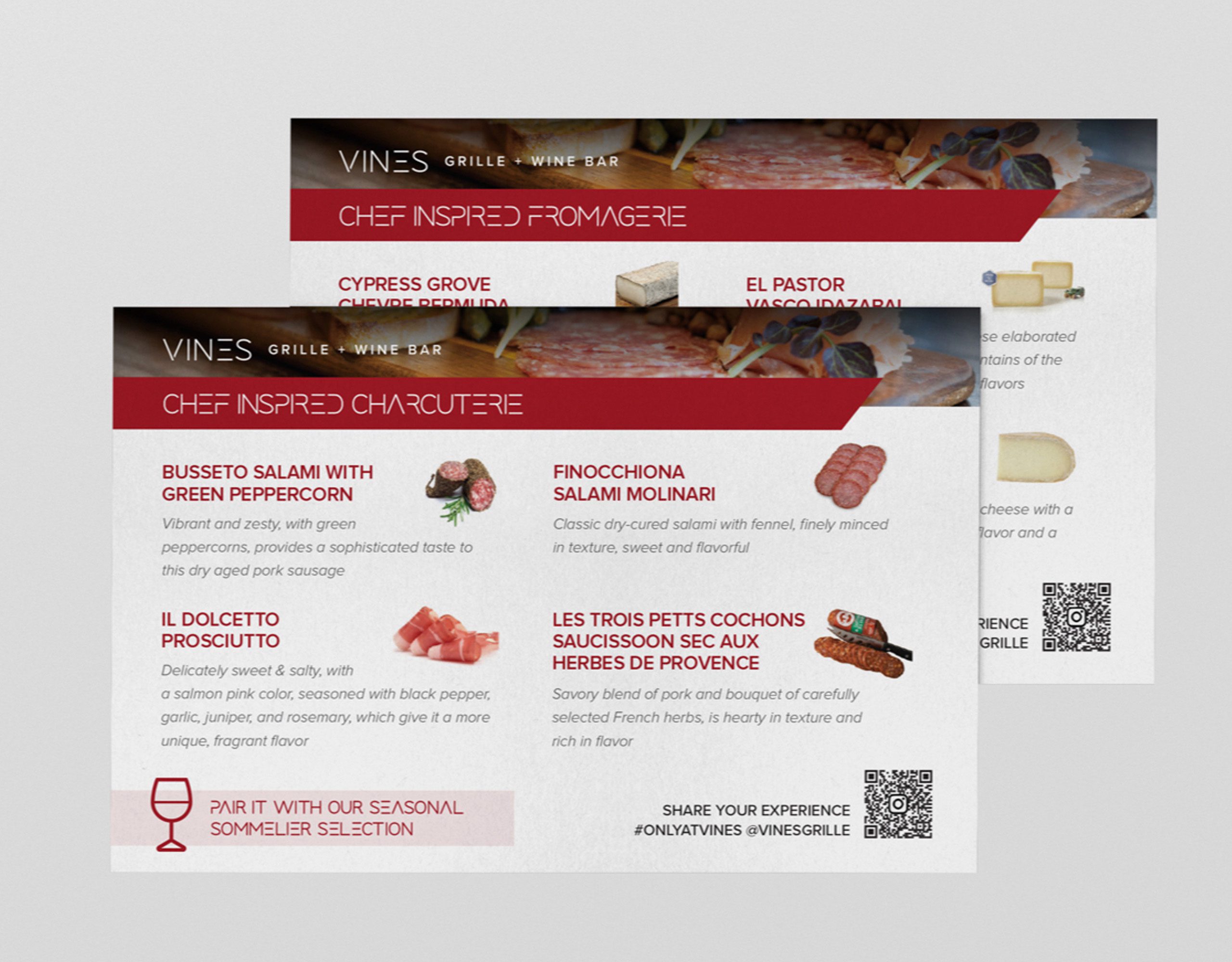 WIREFRAMING
UX Design
The creation and analysis of industry-specific user personas equipped us with valuable insight into how to attract and retain Vines' target customer base. Our UX designers created an optimized blueprint that uses strategic content structure, navigation, image placement, and architecture.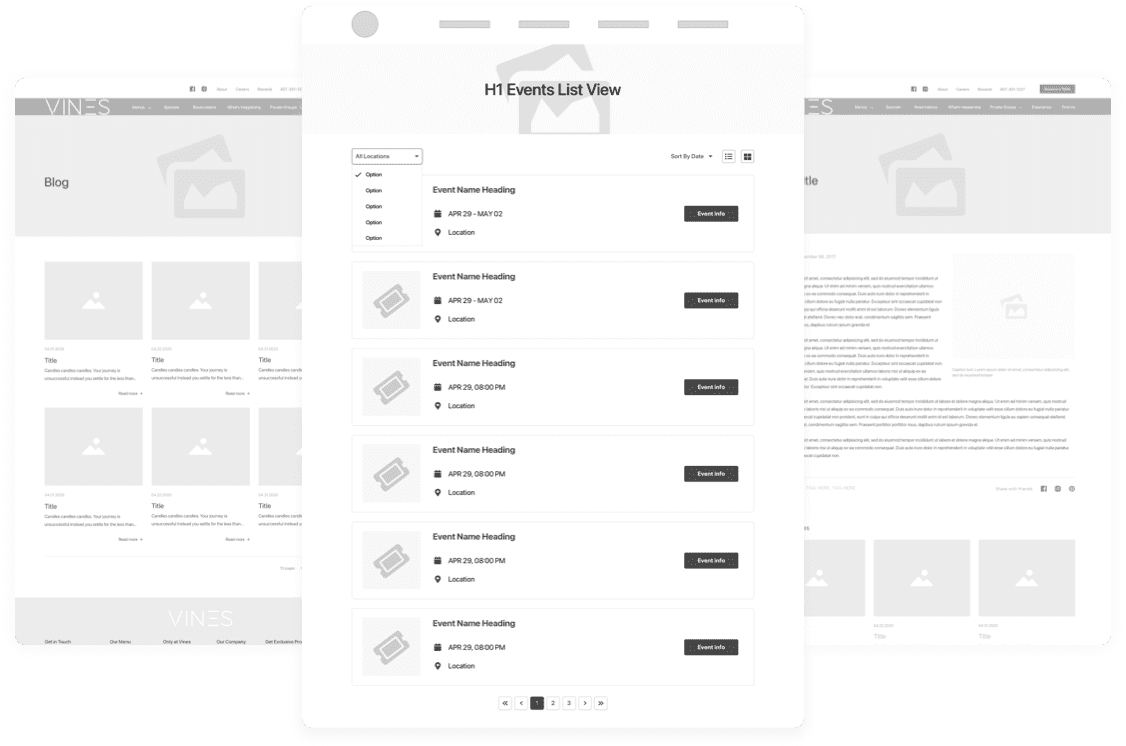 WEBSITE DESIGN
User Interface
Our goal was to make user experience as smooth and appealing as possible. We made sure that the UI was consistent throughout every section of the website and implemented common elements, themes, and branding to enhance consistency and recognition.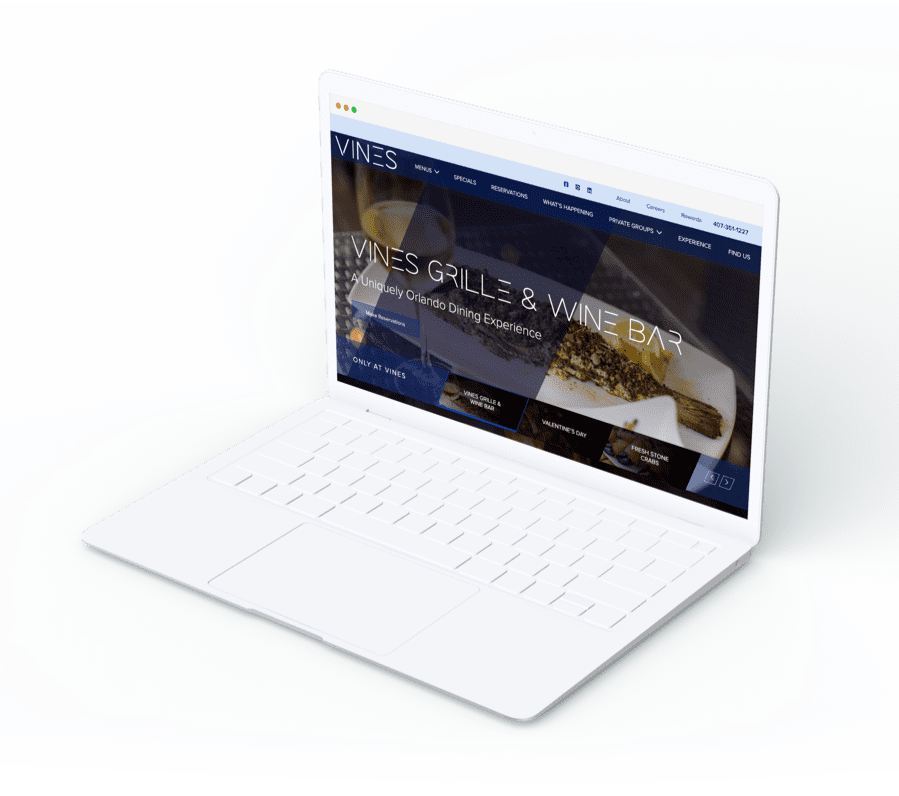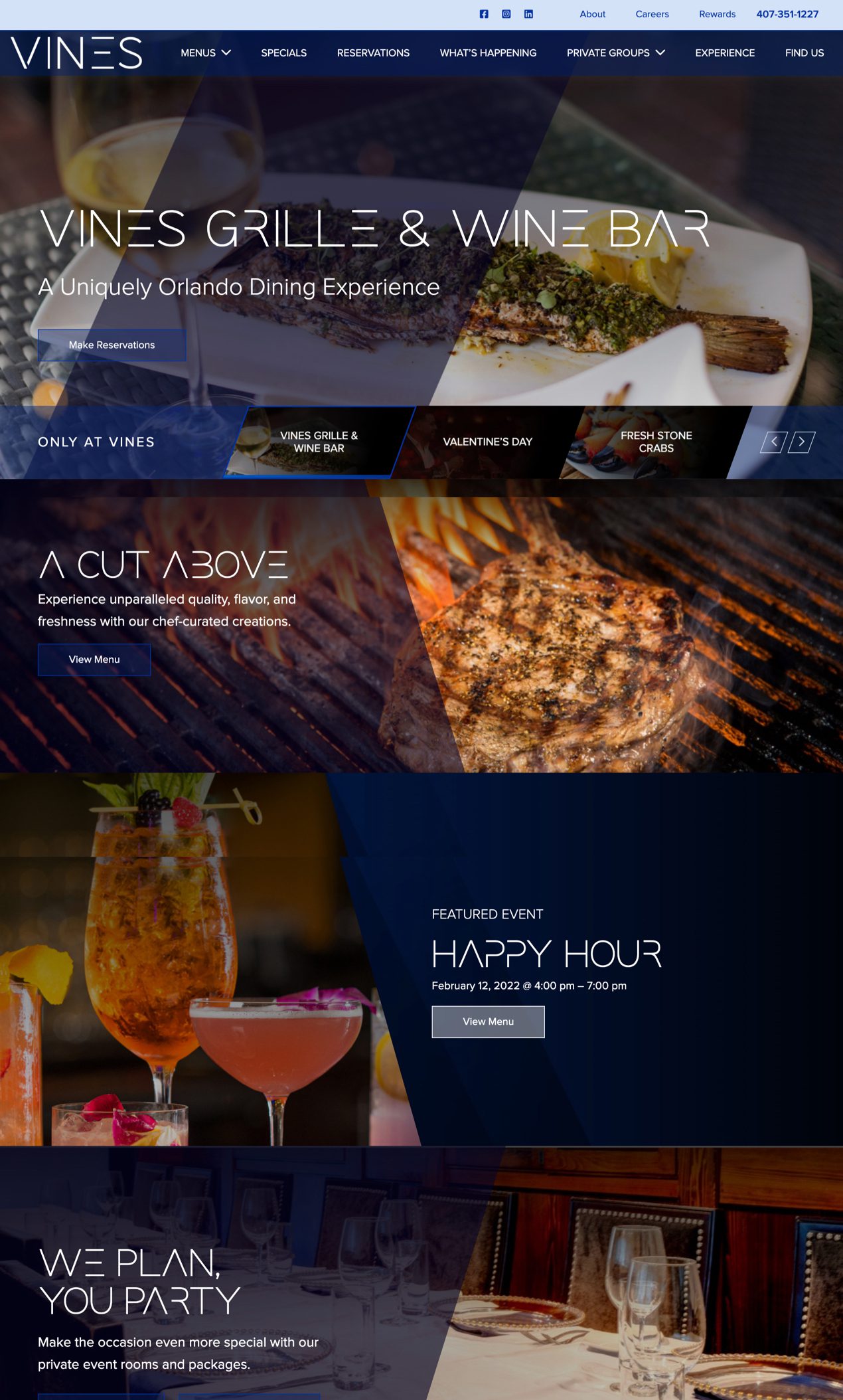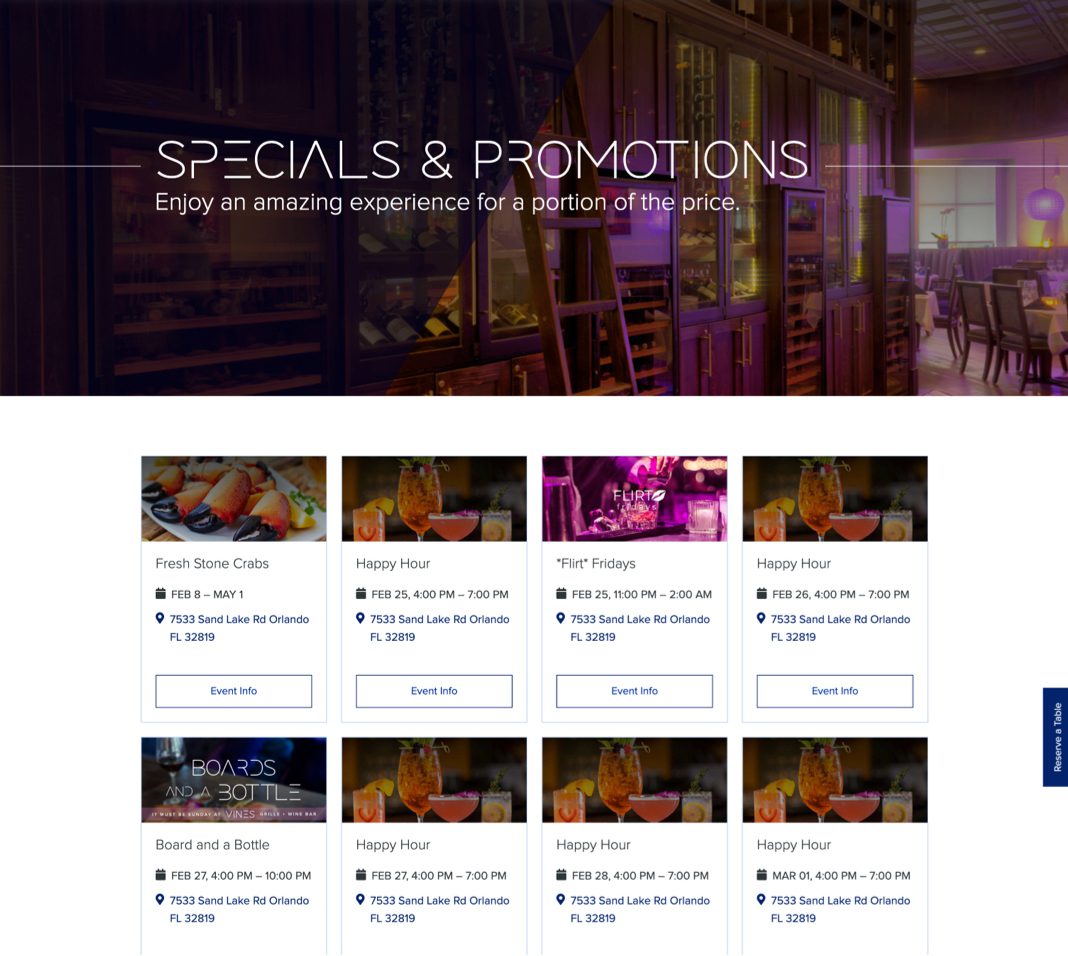 Events System
We created a custom events system that integrates with the homepage banner to promote upcoming specials and promotions. Our system lets the Vines team edit events as needed without any technical support. Once an event ends, it is automatically removed to ensure that the calendar remains up-to-date and relevant.
Menu System
Our developers built strategic schema into the website for Google to index which pages show up for which search terms. Our backend SEO techniques ensure that when users search for local restaurants or bars, Vines appears with a snippet of content, imagery, hours, menu highlights, and pricing.
THE RESULTS
Vines & Brandcoders Were the Perfect Pairing
The final product is a much more high-end website that uses mouth-watering imagery, catchy content, and signature brand elements to bring the concept of Vines to life. We were able to capture the owner's vision of promoting Vines as a trendy hotspot where people can have fun without compromising quality.
If you are a local business owner looking to grow your online presence, contact our Orlando website design agency to start strategizing. Whether you have no current website and need a full build from scratch or want to "revamp" your existing landing pages, we perform many specialties and services under one roof.