Crooked Can Brewing Company is a local independent brewery specializing in craft beer production, tours, and private events.
Services
Website Branding & Guidelines
Product & Service Messaging
UX Design & Wireframing
UI Design & Theming
Website Development
Animations & Interactivity
Easy Content Management Systems
Local Search Engine Optimization
eCommerce (WordPress)
The Challenge
Located in downtown Winter Garden, Crooked Can is a unique hotspot featuring delicious craft beers in a contemporary rustic setting. With the introduction of their new Plant Street market, event space, and brewery tours, they wanted to grow their local presence. They needed a website that could showcase the Crooked Can experience and drive more traffic for breweries, events, and tours in Central Florida.
To achieve these goals, they needed to partner with the right Orlando digital marketing agency. They contacted Brandcoders and after a thorough consultation where we discussed their struggles, vision, and requirements, we began strategizing and creating the framework for their new website. Our main objective was to use show off the brand's quirkiness with fun imagery and animations while driving local traffic using organic search engine optimization tactics.
WEBSITE DESIGN
UX Design
In order to understand what users would expect and respond to when landing on the Crooked Can website, our UX designers created wireframes based on industry-specific personas that account for intent, behavior, and demographics. These personas gave us the insights we needed to optimize the structure and elements of every landing page to get the most traffic, engagement, and conversions.
WEBSITE DESIGN
User Interface
Once our blueprint was perfected, the design team got to work on a visually stunning user interface that captured the eccentricity and quality of the Crooked Can brand. We accomplished this through unified colors, imagery, and animations designed to make a big first impression.
Our developers brought the design to life with eye-popping video and imagery, fun animation effects, virtual tours, and a user-friendly backend content management system.
To ensure that the new website would appear on local SERPs, our Orlando search engine optimization team integrated keyword-rich content, heading structures, internal links to boost search engine rankings for certain cities and services.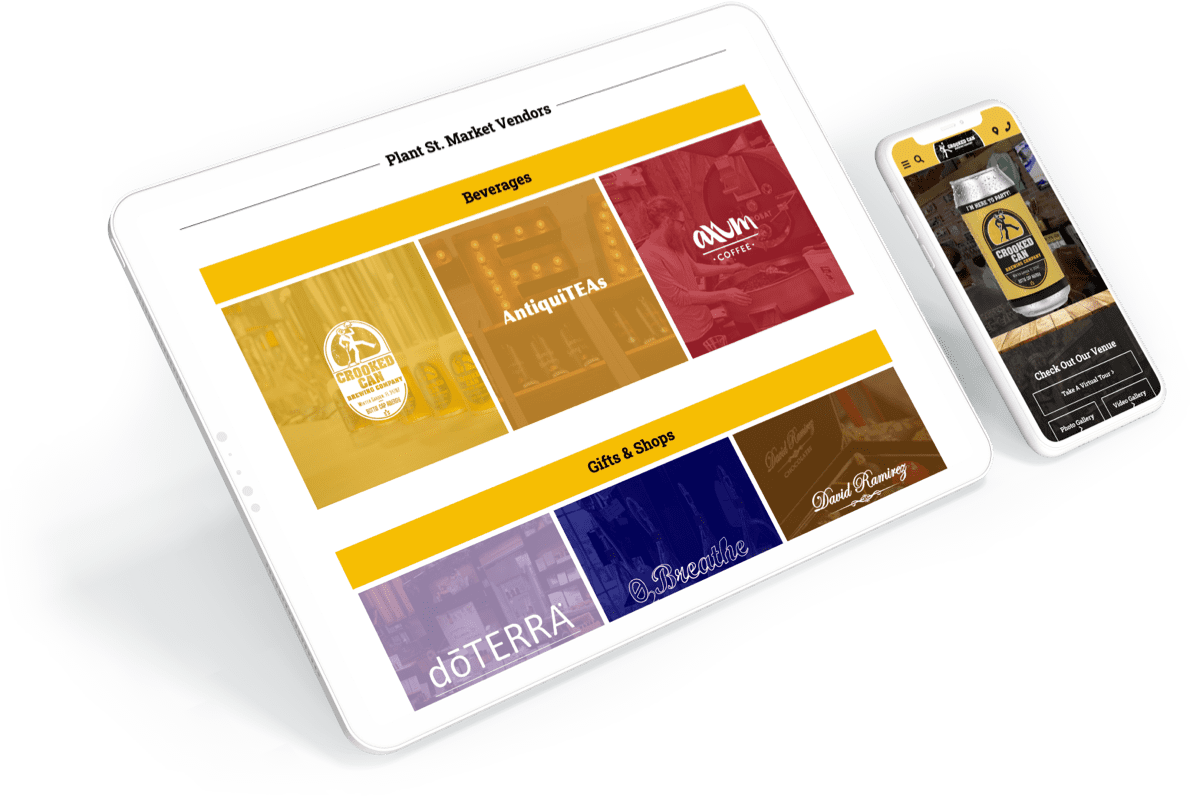 We incorporated mobile optimization into every landing page, guaranteeing a smooth user experience on every device including cell phones, tablets, and desktops.
THE RESULTS
More Web Traffic & Brand Awareness — We'll Drink to That
Within six months, the Crooked Can website saw a 400% growth in local organic traffic, earning them a reputation as one of Winter Garden's most popular hangout spots. The ability for users to easily find their menus, virtual tours, and services online increased local interest and business significantly. Today, Brandcoders continues to support its marketing efforts. If you are a business owner looking to grow your presence and revenue, schedule a consultation with our Orlando web design agency to discuss your company's objectives, struggles, and vision for the future.