 Casa Modern Furniture cultivates the perfect blend of contemporary furniture, classic décor, and stunning accents to help clients create the perfect atmosphere.
Services
Branding Update
Brand Guidelines
The Challenge
Casa is headquartered in Orlando with four showrooms located throughout Central Florida. A new internal initiative to pursue online furniture sales prompted them to seek out an Orlando branding agency that could help modernize their existing brand identity and improve their local presence. They needed a website that could support their upcoming marketing efforts and drive online orders.
Brandcoders consulted with Casa Furniture's leadership team to determine their current and future online sales goals. The primary objectives were to incorporate their new branding into a user-friendly eCommerce website that could effectively showcase their unique products, integrate with their inventory management platform, and encourage potential customers to convert.
BRAND UPDATE
Logo & Visual Identity
In order to give the brand a more modern and high-end feel, our designers revamped the logo colors and placement. We used black and white to establish an upscale look and rearranged the wording to create more contrast and draw attention to the word "modern." The team wanted to provide a new option that could improve Casa's image without diminishing local recognition of the original logo.
Brand Guidelines
We developed professional guidelines that show off the new Casa brand with details on proper usage and misusage of the logos, colors, and fonts. Having a brand book provides a baseline for all internal and public content including website copy and imagery, advertisements, and flyers.
Colors & Stationery
We created a custom color palette and stationery system with renderings of branded envelopes, notepads, presentation folders, and business cards. New marketing collateral with a fresh look allows Casa to present itself in a more professional way and make a lasting impression on potential customers.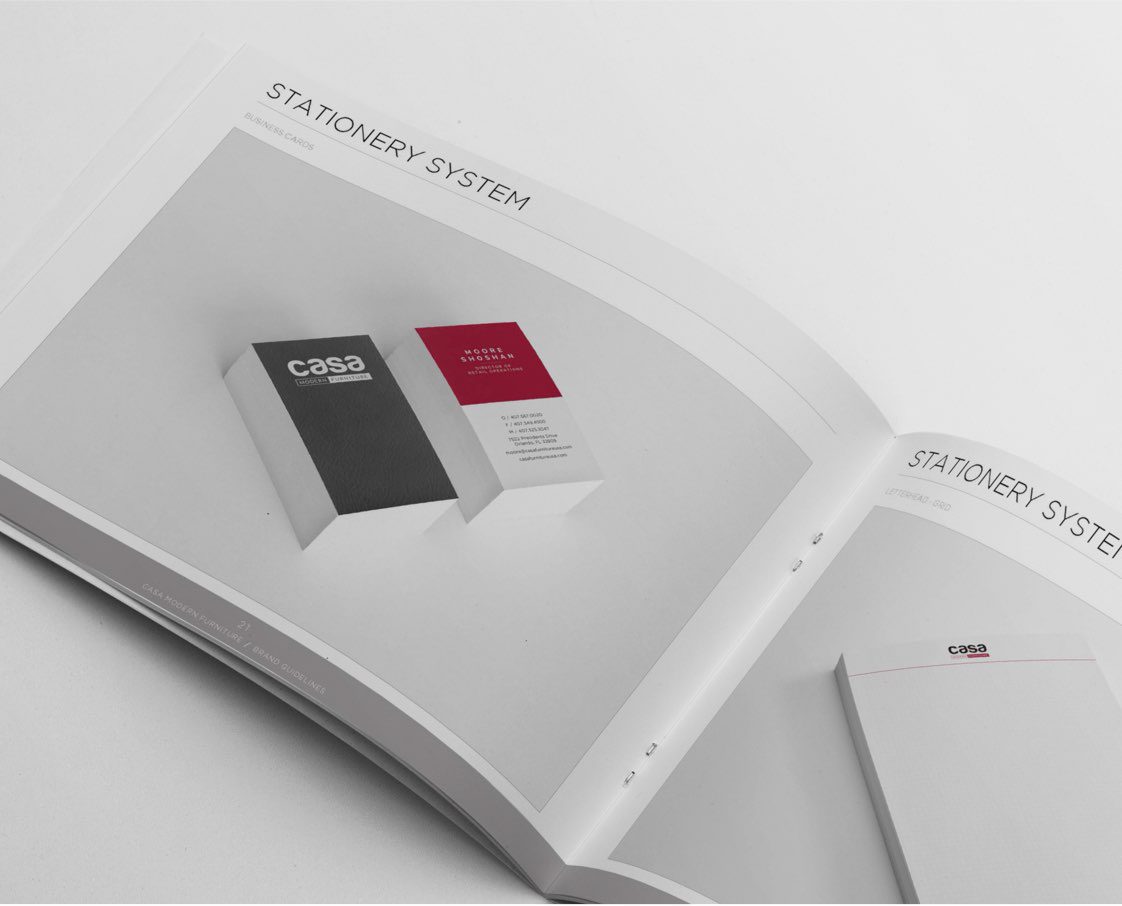 THE RESULTS
High-End Branding That Tells the Right Story
Once Casa had the branding to back up their products, they used it as the foundation for a new e-commerce website to better showcase and sell their pieces. The new identity positions them as a more high-end brand, allowing them to appeal to higher ticket clients and solidify their reputation as a leading furniture provider in Orlando.
If you are a business owner looking to grow your online presence and overall revenue, schedule a consultation with our Orlando digital marketing agency to discuss your company's objectives, struggles, and vision for the future. We are also a full-service Orlando web design agency and Orlando web application development company with a large portfolio under our belt.